Production Process
The original 1-step process developed by ABS.
By utilizing the residual heat from the perform injection molding process, energy consumption of the 1-step process is dramatically lower than that required for 2-step molding.
The flexibility of the ASB Series conventional 1-step machines is ideally suited to extreme custom molding and non-PET applications.
---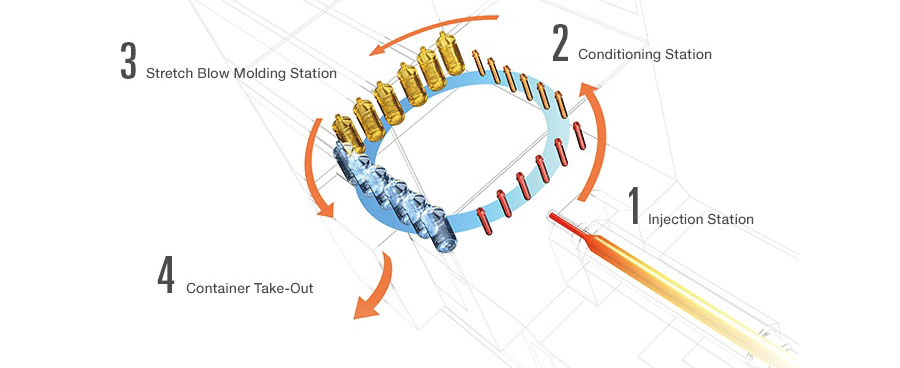 | | |
| --- | --- |
| | Preforms are injected and cooled to below the crystallizing temperature of PET, but enough heat is retained to be blown without further re-heating. Specialized preform designs and adjustments to injection parameters can be used to optimize material distribution in the finished containers. Since the preform is custom designed for each specific container, special features such as non-standard necks can easily be incorporated. |
| | This is where the legendary flexibility and stability of the ASB Series originates from. A variety of technologies can be applied to optimize the preform temperature profile allowing maximum utilization of material, enabling lightweight, strong containers to be molded in a variety of materials.  By exchanging these low cost parts, round, square or oval containers can easily be produced from a common preform without the need to modify more expensive injection mold parts. This station can also compensate for outside variables such as utility supply, ambient conditions and molding resins thereby offering more stable molding. |
| | The basic stretch blow molding process can be modified in a variety of ways. Most common amongst these are heat-setting and handle forming or insertion. If the preform design is compatible, a variety of container shapes can be formed by only changing the blow mold. |
| | Containers are ejected from the lip cavity, having been precisely held since the injection of the preform. Necks are precisely orientated throughout the molding process and are protected from scuffing or damage. The body too, is maintained scuff free so container appearance is second-to-none making this process ideally suited to applications requiring the highest visual quality. |